Singer, Songwriter, Storyteller.
It goes far beyond singing,
it's creating a vision... an emotion... a memory. It's an innate part of my soul, it is my first love, it is my best friend, And it has saved my life in more ways than one. I do it because it's who I am. It is my vehicle to make the world a better place and inspire change.
Looking to book an event?
Touring schools across the U.S.
Leaving memories wherever we go!
As a child, Michaela was bullied in school and had been tormented by others. She struggled with body image and was made fun of because of her weight and desire to be a performer. Michaela battled with depression, acceptance and medical let downs, she developed fibromyalgia at an early age and it debilitated her from performing which drove her deeper into depression.
Through it all she still had the support of her father and he believed in her. This led him to send a tape to the producers of 'The Voice' which landed her an audition and the rest is history. When she appeared on the show, this was her stage to prove to the doubters that she was never giving up on her dreams.
As children progress through the teenage years, they develop and form independent thoughts, which often conflict with ideas and concepts held by adults and peers. Through this tour, Michaela hopes to reach out to pre-teens and teens through her self-realization, offering encouragement, empowerment, and belief in themselves in order to pursue their dreams.
Highlights: Students participate in various ways, i.e Hosting, speaking, dancing, singing or play instruments. We videotape each show to share with students on social media. It's FUN and engaging!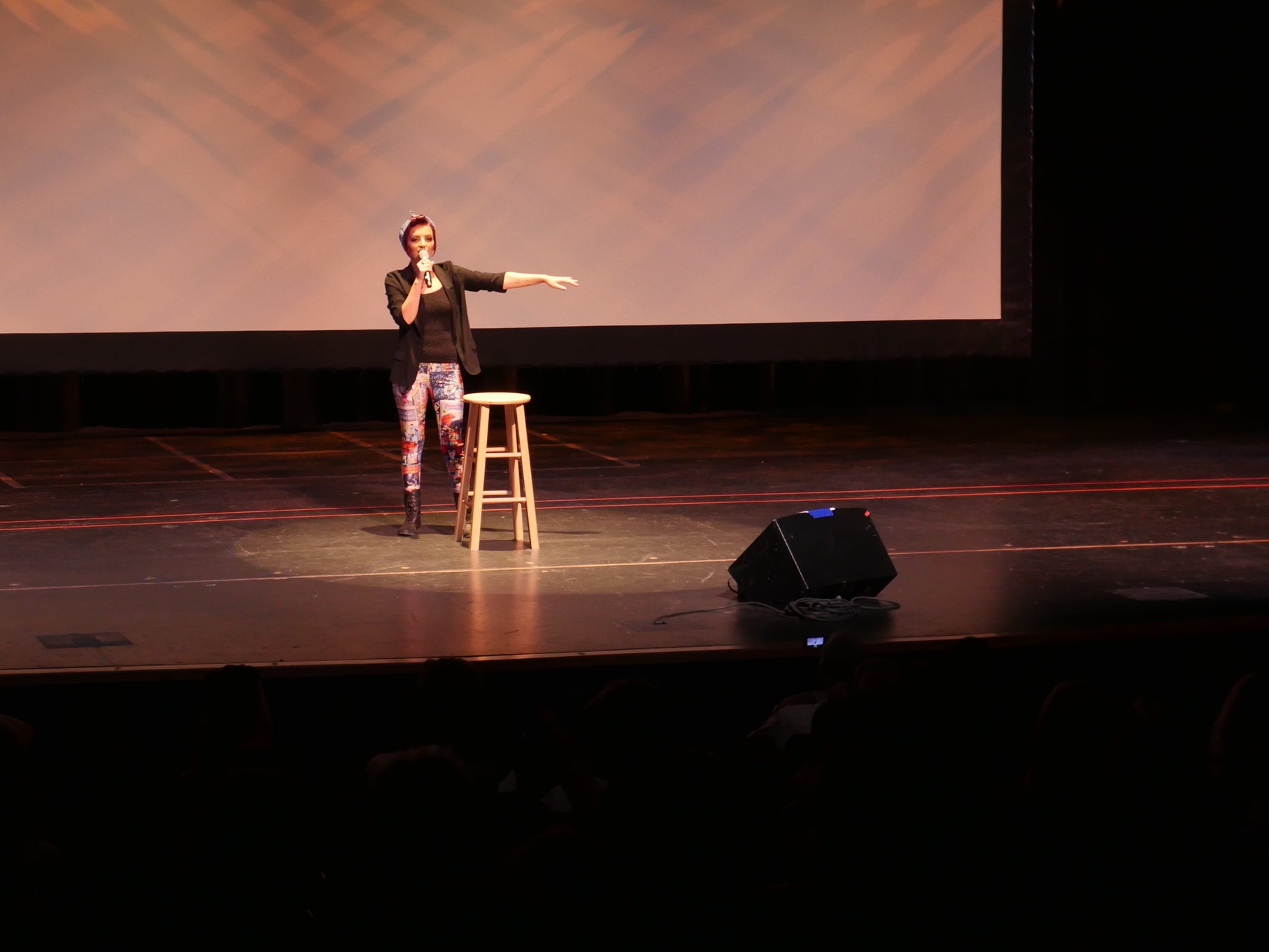 The Be You Campaign is my passion project, it's my way of returning the love given to me by my fans. I believe the Be You campaign is why I was given this voice.
Remember, that you are worthy and are loved. You are beautiful from the inside out. If you ever feel alone, like nobody understands, like there's nobody in your corner, I am here for you and I am rooting for you.

And, if ever you don't believe it. Reach out to me on Instagram, i'll do my best to respond.
Below are videos that highlight our journey. More to come...
Use this form to request information about the Ambassador program or to have Michaela visit your school!
Add 'Ambassador' in the 'subject' field to request information about the program. If you have any questions about the "Be You" tour. Fill out the form below with your questions. You can also request an informational packet which will be emailed to you.
Michaela visits the Sports Academy in Thousand Oaks, CA. Families who lost their homes were invited to weekly Kids Camps to help reduce stress from both the wildfires which devastated the area and the recent Borderline shootings. Michaela performed for the kids and spent time with them.
Fleet Week 2018
We are honored to be performing at Fleet Week 2018 in San Pedro, Ca. This years line up is well worth the trip and it's FREE! There's so much to do which means you'll never get bored. Look for Michaela and be sure to say 'Hello'. She's performing on Friday, August 31st @ 5:00pm.
Palm Beach Trendsetter - Michaela Paige
Michaela Paige is more than just another singer/songwriter. She's a sole proprietor. Starting at the tender age of 8, Michaela has been performing nationally, with the goal and intent of using her gift to help and inspire others. She is a well-known ph...
'The Voice' star Michaela Paige brings anti-bullying message to San Fernando Valley school
Former "Voice" contestant Michaela Paige will perform Tuesday for students at El Camino Real Charter High School as part of her "Be You!" motivational tour.
The 21-year-old singer/songwriter felt compelled to visit the Woodland Hills high school after hearing about what happened to freshman Jordan Peisner from
Follow Michaela on Instagram and Twitter.
Always remember to Be You